While my family doesn't technically celebrate Halloween, I do find it fun to discuss costumes, and even write about how to make costumes appropriate for Halloween. But frankly, why should one day of the year get all the fun? Let's make every day appropriate for dressing up silly.... okay, maybe appropriate for KIDS to dress up silly.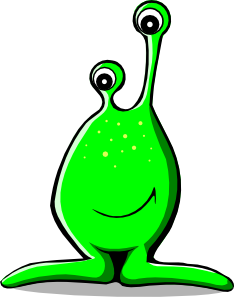 With that being said, I recently wrote an
eHow article
giving tips on how to make an alien costume. The ideas are slightly generic- giving tips for how to make a scary, funny, or beautiful alien, but my thought was this- it's YOUR costume, who am I to tell you exactly how to construct it? The beauty of homemade costumes is that every one is unique to the wearer. So, check out my
article
for some ultra-cute helps to make your costume one-of-a-kind! OR check out
HERE
,
HERE
, or
HERE
for some ways to change an old pair of sweat pants from drab to fab!